I'll be off for Thanksgiving until Monday but hopefully this post will give you a little eye candy to get you through. Thanksgiving and tobacco have always had a close relationship, the pilgrims and colonists learned of tobacco from the native americans and that heritage passed all the way down to the tins I have for you today.
These tins that came to my attention recently and I was lucky enough to be able to buy them. They are Five Brothers Store Display Tins that came from the basement of an old country store in Oregon. It was also found with another Five Brothers Store Bin and a pipe display/sign for William Demuth & Co. Pipes.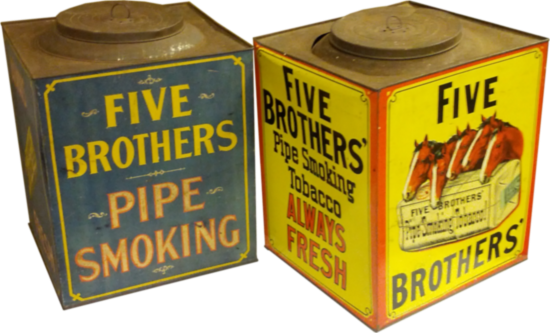 The colors on the yellow tin are very bright and clear, there is some fading and discoloration on the blue tin. These measure in at 10″ long x 9.5″ wide x 12.5″ tall and they really stand out. The detail in the horses' heads and packaging is really spectacular and the size of these bins make for something you just can't ignore ( looks like the ads are still working as intended even today! ).
The Five Brothers Company was started in the 1860s by John Finzer (and his 4 other brothers, hence Five Brothers) and produced tobacco for pipes out of a factory in Louisville, Kentucky. By 1882 only two brothers were still with the company as 2 had died, and one had left the firm. In 1882 the company was incorporated and operated into the early 1900s when it was bought by the American Tobacco Company who owned a virtual monopoly on tobacco until Roosevelt busted up the monopoly.
Everyone be safe driving over the river and through the woods to Grandma's house this week! Eat, drink, smoke and be merry!