Tobacco Tins are very popular and relatively common type of Antique Collectibles. However, there are many of them that are very valuable and condition matters, so if you're looking to sell remember to send us a picture so we can give you an accurate value.
There is a special name for the field of collecting tobacco antiques called Tobacciana. Collectible tobacco tins typically date from the mid 1800's to the early 1900's and many of them even have the original tax stamps which allow for dating. Tobacco Tins are quite collectable because they were produced in many cases with beautiful artwork in up to 10 colors on paper labels, or later lithography, in interesting shaped canisters and there are hundreds of different brands and designs to collect.
If you don't see your tin, try to use our search feature on the right side of the page, if you still can't find it Contact Us for more information.
There are many different types of Tobacco Tins so check them out below:
Canisters (round, square, or rectangular):
–
Lunch Box (can be found with single or double handles):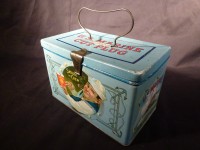 –
Figural (examples include dolls, casket, or milk can):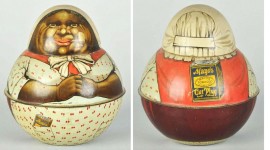 –
Store Bins (larger displays that were located inside a store):
–
Pocket (pocket sized tins to carry around):
–
–
Sample Packs
(smaller versions of regular products used as a promotional item)